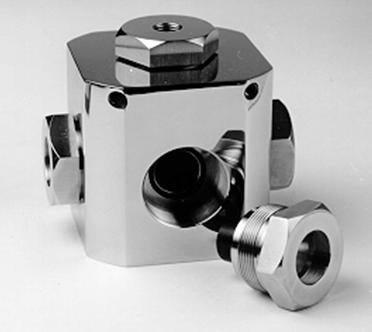 Product Description
ISS and PBI have partnered to offer the Barocycler HUB440 configured with the ISS High Pressure Optical Cell for high pressure spectroscopy. The ISS HP optical cell easily integrates with the HUB440 and is ideal for fluorescence, absorption and Raman Spectroscopy.
The Barocycler HUB440 is a compact, portable, bench-top, ultra-high pressure generator that uses a compressed air-driven pressure intensifier to generate fluid pressure up to 58,000 psi (~4 kilobar) with an input compressed air pressure of just 130 psi. The HUB440 can be operated via a simple front panel, or controlled using the integrated Data Acquisition and Control Module for dynamic pressure control and connectivity to external devices.
For more information about the Barocycler HUB440
The HPCell has been specifically designed for the fluorescence and absorption studies of samples (solid and solutions in cuvettes) at pressures of up to 4,000 bar (58,000 psi). The cell features three 10mm-diameter quartz windows placed at ninety degrees for the acquisition of either L- or T-format fluorescence measurements. A 4-window cell version is available for the simultaneous acquisition of fluorescence and absorption data. Sapphire windows are also available.